We agreed as an organizing team that planning a "race as usual" would not be the best use of our unique energies and skills, especially when none of us can predict the reality of life in July..and let's be honest, this race is germy AF. Now is NOT the time to hand someone a manifest that has been in your mouth since Clarke street.
The RW24 has always been about building community. Every year the organizing team meets and debates and makes changes that attempt to move us closer to that core value. We keep old traditions and create new ones. We do our best to pull off this crazy project, to have a good time, and to remind each other what can get done as a ragtag group of unpaid organizers, riders, volunteers, and neighbors.
While this year is no different in that aspect, events out of our control have added challenges that we have decided to address head on. We didn't want to waste our time and we didn't want to waste your hope. Instead, we are taking stock of what we are good at, and what has been important to us and the event since it was started. We have all spent the past 13 years getting ready for this moment.
Here we go.

Riverwest24 2020:
*We will hopefully see a celebration on July 24-25. We are relying on you, the beating heart of this weekend, to create celebration too.  Start thinking, let us know your ideas and if you need a signal boost for your plan.
*There will be a registration, you can sign up, and you will receive a shirt.  Go to the JOIN link at the top to read more. It's live.
*We will activate our volunteer base to support critical mutual aid projects happening in our city. We are good at turnout, wrangling, and directing people where to be. We will be listening to and supporting some incredibly inspiring people around the city who have their own projects already rolling. Projects that we hope will have a larger impact with your support.
We all know this is not how the RW24 usually goes down, but every one of us knew weeks ago that this isn't how life usually goes down. Every one of us also knows that the People's Holiday is what we make of it as neighbors. But we have time to figure that part out. So let's focus on today. Let's focus our collective energy and skills on concrete help NOW where it is needed NOW. By harnessing the energy and passion of our riders and volunteers we can help our community with the many new challenges it faces.
Stay tuned as we release details about ways to put ourselves to work for health, safety, justice, and community, right here at home.
Until we meet again.
Be safe, be smart, think positive, and know that your RW24 organizing team loves you.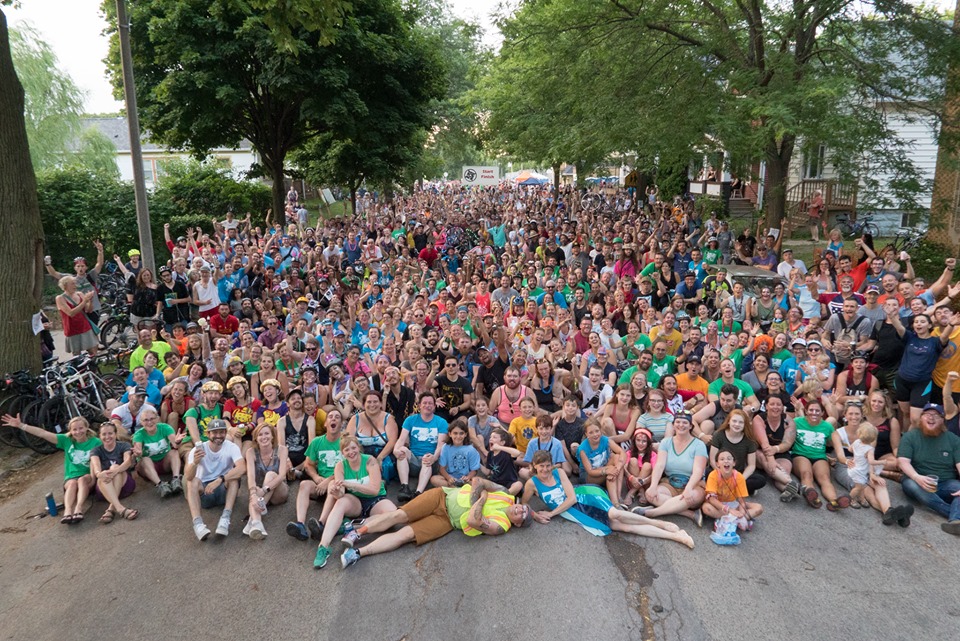 Photo by Joe Brusky.